2015 Demos and Masterclasses





Free

lectures for all, limited spaces on a first come first served basis.


DeWalt & Stanley Lectures
DeWalt/Stanley Pavilion, Hall 2, Ground Floor

All Day - Julian Collins, independent professional joiner, and Christopher Hall, 'The Gentleman Joiner', will be demonstrating a range of DeWALT and Stanley products including the revolutionary new DeWALT XR FLEXVOLT 54V system and heavy-duty cordless power tools that offer runtime and performance that has never before been seen in cordless tools.

There will also be on-going demonstrations of Bostitch nail guns, as well as outdoor displays in the Yellow Storm truck.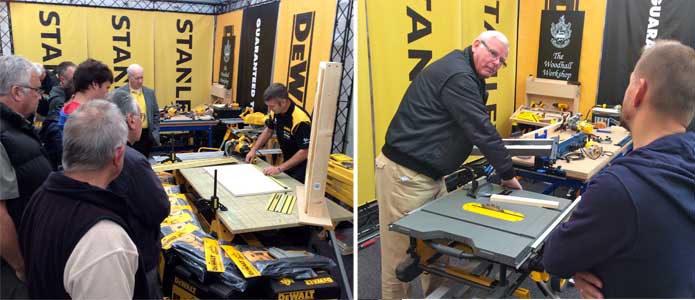 Bosch/Dremel Lectures

Bosch Village A1-14, Hall 1, Ground Floor


See on-going demonstrations of Bosch's new range. Get hands on with the exciting new cordless range, and a host of corded woodworking products. Also demonstrations of the laser range.

We will also have super savings on all of your favourites: Glide mitre saw - GST Jigsaw; GKS/GKT Circular and Plunge Saws. Experts will be on hand to advise you and answer your questions.

Dremel will be demonstrating it's range of rotary and compact tools, including Moto-saw (2 in 1 scroll-saw) and innovations such as EZ Change and EZ Speed Clic range of accessories. There will also be a range of special promotional kits, offering exceptional value.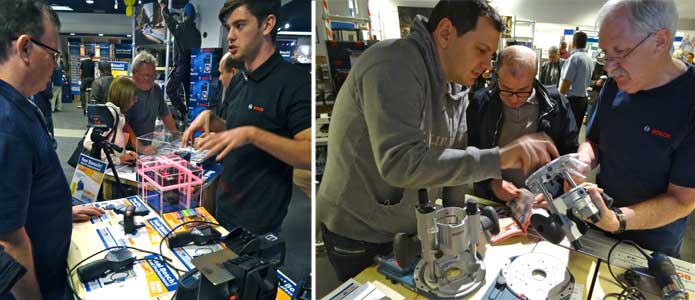 Festool Lectures

Stand C5-19, Hall 1, Ground Floor
+ Outside Display Area


Festool will be showcasing their complete range of quality tools including the new high performance Airstream batteries and charger as well as the new compact Sanders. Demonstrations from the expert team will be available throughout each day and the Festool European roadshow truck will also be onsite with additional tools and demonstrations. Learn more about the Festool 18V range and understand more about clean working with the range of Festool dust extractors. Come along to meet the Festool team, demo the range and learn more about each tool.


Makita Lectures

Stand H1-4, Hall 1, Ground Floor & Outside

This year Makita has invited Andy King to demonstrate and build his well-known and much-admired Pallet Chairs using a selection of newly launched products including the DLS714 Twin 18+18V Mitre Saw; the DBN500 18V Brad Nailer; the new CXT 10.8V range which includes a Drill Driver, Circular Saw and Jigsaw; the new top of the range 18V 5.0ah Twin Kit DLX2176TJ, as well as old favourites such as the SP6000J plunge saw with rail system; RT0700CX2 Router Trimmer and the LB1200F Bandsaw. Also on display and demonstrated will be the new DVC260Z 18V Backpack Vacuum Cleaner and outside the grounds maintenance team will be demonstrating a variety of 18V and twin 18V, as well as 4 stroke and 2 stroke high performance grounds-care machinery for professionals.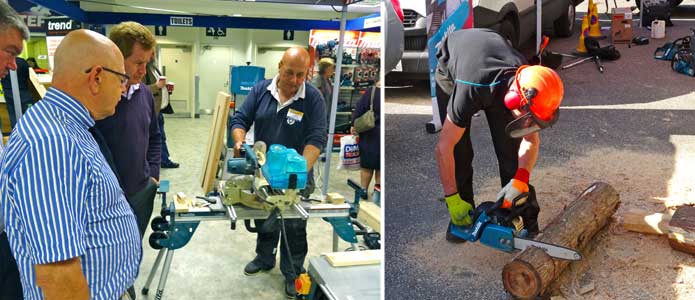 RECORD POWER MASTERCLASSES

Stand 110, First Floor
Demonstrators: Craig Heffren, Stuart Pickering and Tony Rhodes



11.00am, Lathe Masterclass:
Bowl and spindle turning demonstrations on the 'Herald' Lathe (1420) and the new SC3 and SC4 chucks and range of professionally developed jaws. How to apply finishing products such as friction polish, waxes and oils.
Duration: 1 Hour including Q&A


12.15 Bandsaw Masterclass: Covering the benefits of bandsaw ownership and demonstration of some of their capabilities using the ever popular BS350S Bandsaw, walking through the major features of the machine and what to look out for when planning to purchase a bandsaw. Also discussing how to get the most out of bandsaws, covering initial setup, fine-tuning and blade choice.
Duration: 1 Hour including Q&A


13:30 Planer Thicknesser/Dust Extraction Masterclass:
Using the PT107 10" x 7" Heavy Duty Planer Thicknesser, a demonstration of the benefits and operation of planer thicknessers. Preparing and sizing timber accurately and quickly is essential to any joinery work, making a reliable planer thicknesser an essential part of any serious workshop setup. There will also be a presentation and demonstration of the range of dust extraction options available, including both vacuum and airflow solutions and their benefits.
Duration: 1 Hour including Q&A


14:45 Sharpening & Grinding Masterclass on the WG250 & WG200:
The WG250/WG200 Wet Stone Sharpening Systems are an essential tool for any woodworker, wIth a large range of jigs and accessories available to help sharpen virtually all workshop tools and many household utensils. We will be giving in-depth demonstrations, advice and tips on how to get the most out of these machines to keep your tools in perfect condition.

In addition, the CamVac range of extraction machines and accessories will now be on display and available from the Record Power stand, along with the full range of Record Power extraction machines.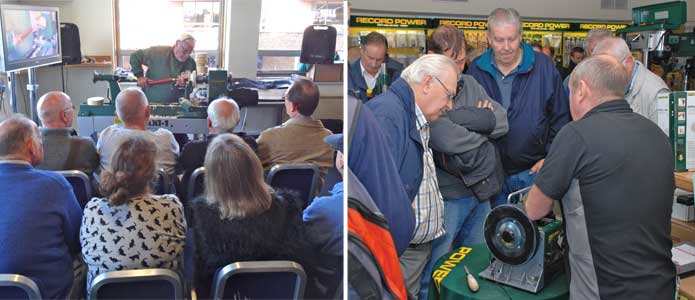 Trend Lectures

Stand D1-8, Hall 1, Ground Floor


On-going demonstrations all day showing the range of routers, router tables, routing and dovetail jigs and routing accessories. Trend's diamond sharpening expert James Barry will be demonstrating the full range of diamond sharpening stones.